History

Rustex, Inc. was formed in 1981 as a subsidiary of T.H. Russell Co. The Company was originally developed to install and maintain natural gas processing plants, compressor stations and other related facilities on a limited basis. In 1990, T.H. Russell Co. offered to sell Rustex, Inc. to its minority stockholders. After consideration of the upward trend of the market, the strength of knowledge and talent of its personnel, and the potential for expansion, the decision was made to acquire the Company. Rustex, Inc. has been growing to meet its customersí needs ever since.

Build It Right The First Time

When you have a hot project with a tight deadline, people sometimes forget that just getting on line can cost a lot down the road. Rustex prides itself in forward thinking on all construction projects so they will be:
Operator friendly
Accessible for maintenance
Environmentally contained
Ready for future expansion
Meet all code requirements
These aspects need not change your deadline, nor long term goals and cost, if considered up front.

Be Cost Effective

Are you moving an existing plant? If you have the P & IDís and vessel drawings, we can assist in designing your foundation and piping lay-outs without expensive engineering and drafting cost. Over the years, Rustex, Inc. has cultivated multiple alliances with other specialty Contractors. These alliances allow for coordinated turnkey projects for all phases of construction.

Hit The Target

Whether it is a hard dollar contract or a time and material job, setting and achieving target dates for project completion is essential for marketing your products and services. We will help you set and attain these goals.

Job History

These are some of the projects that Rustex, Inc. has completed in the past.



Phillips 66

1981 Lyons, Muldoon and Plum Plants
Modify three 15MMCF Refrigeration Plants to Phillips 66 specifications.



Endevco

1983 Caterena, Texas
Installed 10MMCF Refrigeration Plant with storage and truck loading facilities.



South West Gas

1982-1998
Installed multiple Compressor Stations, Dehydration Units, and Pigging facilities.



Aquila S.W. 1990

LaGrange Plant
Installed Centar Turbine with waste heat recovery: Saturn turbine for refrigeration



Aquila S.W.

1991 Somerville, Tx.
Installed 30 MMCF Exspander Plant with slug catcher, stabilizer, 280 GPM Amine Unit, Glycol Unit, Flare System, Storage and Truck loading.



Aquila S.W.

1992 Grimes County Plant
Installed 220 GPM Amine Unit with Slug Catcher, Stabilizer and Flare System



Union Pacific Resources

1998 Conroe Plant
Installed two Cat 3608 Clean Burn Compressors with containment and building. Modified inlet separation and fuel system.



Duke Energy Field Services

1999-2002 Gulf Plains Plant
Installed one Cat 3612 Compressor, one Cat 3608 Compressor, three G-3016 Compressors, one Solar/Saturn Compressor. Installed two Inlet Slug Catchers, Inlet Separators and a variety of Plant modifications and upgrades.



Duke Energy Field Services

2001 Giddings Plant
Disassembled and move 800 GPM Amine Plant with 60MMBTU Hot Oil System.



Duke Energy Field Services

2002 Gulf Plains Plant
Installed 400GPM Amine Plant and Glycol Unit, with environmental containment.



Duke Energy Field Services

2003 LaGloria Plant
Extensive modifications, re-hab and new construction in 200MMCF Cryo Plant



Energy Transfer Company

2003-2009: Barnett Shale Area
Installed several Natural Gas Compressor Stations, Pigging Facilities, Meter Stations, Treating Facilities, and general construction as needed.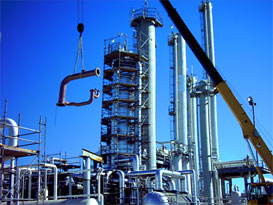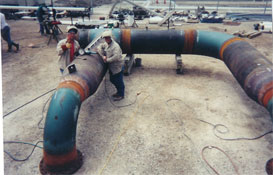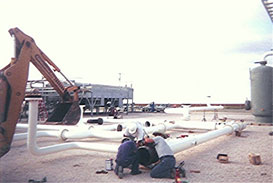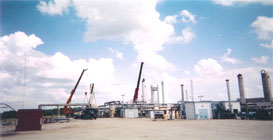 RUSTEX, INC.
1776 Frieda Lane
Bryan, Texas 77808
wendy@rustexinc.net
Phone 979-778-7551
Fax 979-778-4501